Oh, damn, it's Monday. But at least it's beautiful outside!
I spent my weekend wearing shorts and sandals here in Dallas, while the St. Patrick's Day festivities raged on. It was my first time experiencing the city's mass party and, well, I had a good time. And I was glad I was on my bike for the horde of drunken pedestrians always seemed to get out of my way when my bike's bell went RING-A-DING!!!
MSR '13
Thanks Pez for the pic!
However, the weather wasn't quite as nice elsewhere in the world. Those who happened to be racing in this year's Milan- San Remo found out that it was anything but the traditional Spring weather. La Primavera as it is also known is usually a beautiful – if not very long – race around Italy's Mediterranean coast. This year, though, riders were met with rain, snow and dangerous, icy roads.
But, let's take a good look at what happened. Rather than complain about the weather they had to race through the riders all called themselves winners.
This race, and Taylor Phinney's ride last week at Tirreno-Adriatico have brought something back to this sport I love: Passion.
I remember being a tall, dumpy kid of about 15 who would read through these old tales of guys who's names I couldn't pronounce riding up and down mountains and over cobblestones in villages who's locations I didn't know. I read about Eddy Merckx taking off by himself during the tour  to ride over 100 miles. Alone. Pushing himself. Then there was the story of the American Andy Hampsten during the '88 Giro and how he raced up a mountain, in a blizzard, to take the leader's jersey then go on to be the first American to win a Grand Tour.
Now, I don't often talk to much about the racing side of the bike Universe but stories like these are what got me hooked on this sport. And they're what will save the sport. For too long we have been beaten down and bloodied by accusations, trials and articles of racer's cheating ways. It's gone on too long and I for one am ready to be done with it.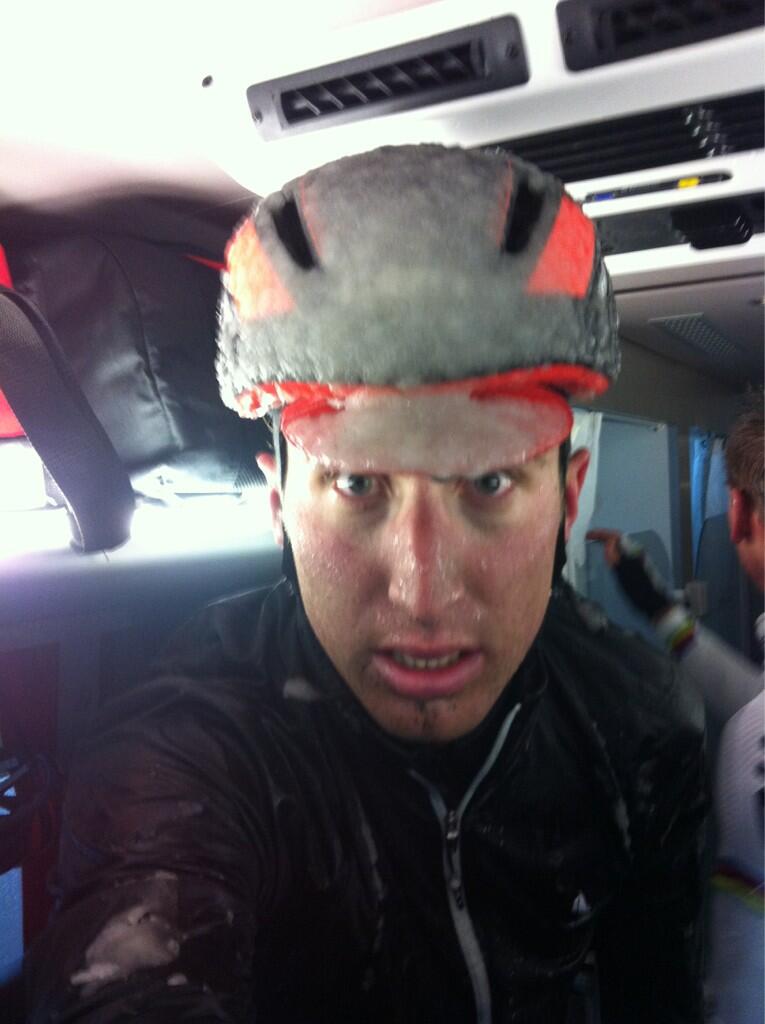 Taylor Phinney covered in ice.
From his Twitter
I'm looking forward to more stories like these, just not the weather. I, for one, am glad that this winter is (seemingly) over. I'm ready for more sandals and shorts, for Dallas' Pool Scene and for long rides on hot days. Tan lines and summer beers.
See you next Monday!